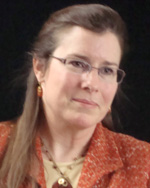 Stephanie Pressly
President and Publisher
Stephanie Pressly has been president and publisher of Big Sky Publishing, LLC since 2007. She has been with the parent company, Pioneer Newspapers, Inc., for 13 years, previously publishing papers in Pocatello and Nampa, Idaho. Prior to that she was the general manager for the Arizona Business Gazette, part of the Arizona Republic newspaper. Pressly spent nine years with Worrell Enterprises publishing papers in her hometown of La Jolla, Calif., Coronado, Calif., and Alabama.
Pressly is on the board of directors of the Pacific Northwest Newspaper Association and is the president-elect of the Montana Newspaper Association. She holds a bachelor's degree from Plymouth State College in New Hampshire.
[MT 0101] - Part 1: Intro and Contribution (3:48)
Stephanie Pressly, president & publisher, The Bozeman Daily Chronicle, started at the newspaper in July 2007. Pressly says that The Chronicle is her community's "primary source for local news." The Chronicle also considers itself "a business partner for the business community," says Pressly. An active editorial board guides The Chronicle, including four community members who rotate periodically.
[MT 0102] - Part 2: Strategic Changes (5:24)
Chronicle, says her newspaper has recently made a considerable investment in online journalism, adding a web editor and an online sales advertising manager. The Chronicle reduced its overall staff in 2008, and reduced wages in 2009, but half of the wage reductions have been reinstated since then. Pressly says the new emphasis on online news has enabled The Chronicle to deliver more breaking news to its customers via the web. "We weren't that out-front on stories like we are now," says Pressly. And Pressly says The Chronicle is committed to experimenting to build its business. "We are willing to try new and different things," says Pressly, "and frankly -- flush them -- if they are not working."
[MT 0103] - Part 3: Adaptation & the Future (4:56)
Stephanie Pressly, president & publisher, The Bozeman Daily Chronicle says one of the greatest challenges in the very dynamic world of newspapering today is "deciding what [new] things to go after. It's a tricky balance," says Pressly. Pressly believes that printed newspapers are "going to be around for a while." Folks tell her, "I love sitting down with my newspaper. It's just a tactile experience that people like," says Pressly. The Chronicle also has 900 paid subscribers for its e-edition, a number Pressly attributes to the many second-home owners in Bozeman.
[MT 0104] - Part 4: Digital Revenues (5:51)
Stephanie Pressly, president & publisher, The Bozeman Daily Chronicle, says digital products currently account for about 5-6 percent of The Chronicle's annual revenue. Pressly expects digital revenues to grow, but in the short term she believes the newspaper will benefit most from overall growth in the community. "We see the print product continuing to grow," says Pressly.
[MT 0105] - Part 5: Prospects & Preparation (1:31)
Chronicle, says candidates for reporting jobs should focus on acquiring multi-media skills to be competitive. "Being a good communicator and writer and being able to deal with people," are also key talents, says Pressly.