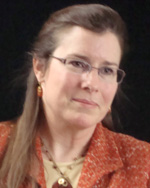 Stephanie Pressly
President and Publisher
Stephanie Pressly has been president and publisher of Big Sky Publishing, LLC since 2007. She has been with the parent company, Pioneer Newspapers, Inc., for 13 years, previously publishing papers in Pocatello and Nampa, Idaho. Prior to that she was the general manager for the Arizona Business Gazette, part of the Arizona Republic newspaper. Pressly spent nine years with Worrell Enterprises publishing papers in her hometown of La Jolla, Calif., Coronado, Calif., and Alabama.
Pressly is on the board of directors of the Pacific Northwest Newspaper Association and is the president-elect of the Montana Newspaper Association. She holds a bachelor's degree from Plymouth State College in New Hampshire.
[MT 0401] - 5. The Story of The Bozeman Daily Chronicle (1:51)
Stephanie Pressly, president & publisher, The Bozeman Daily Chronicle, explains the owner's –Pioneer Newspapers –strategy for newspaper acquisition. The Chronicle was not the first newspaper in Bozeman, Mont., but it's the last one standing, and it's celebrating its 100th anniversary this year.