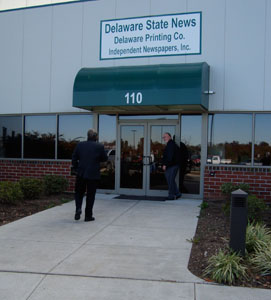 The Delaware State News, its parent company, Independent Newspapers Inc., and the affiliated Delaware Printing Co. are co-located in this building at 110 Galaxy Drive on the outskirts of Dover, De.
Summary
The ownership structure and corporate philosophy of the Delaware State News and its parent company, Independent Newspapers, make it unique (click on Story of the Newspaper). Independent Newspapers pledges "to operate as a public trust. We believe journalists are the guardians of every citizen's constitutional right to a free press. Therefore, we have no authority to compromise, bargain away, or dishonor the principles underlying the First Amendment."
Delaware State News' website, www.De.newszap.com, demonstrates that philosophy. It is not a typical newspaper website. There are no breaking news reports, no editorials, and no staff opinions. Newszap.com, the host website for Independent Newspapers' 110 community newspapers, provides citizens with the, "electronic equivalent of a town meeting hall."
"[The Delaware State News is] the citizens' newspaper, not ours," says Publisher Ed Dulin. "We provide information so people can make informed decisions and space every day so people can discuss what's on their minds," says Andy West, managing editor. Topics of interest to readers often guide the newspaper's coverage decisions. Guest opinions on topics of interest from community experts are often solicited and posted on the website. Independent Newspapers are forums for free community speech.
On the newspaper's website, newspaper content is not provided free, says Darel La Prade, the newspaper's Sr. VP for new media, it's available through print or E-edition subscriptions. But the bottom line is: "Print is still paying the way," says Dulin.
Check This
Dover is the capital of Delaware and home to Dover Air Force Base. Its circulation has grown slightly over the last three years -- from 22,261 to 26,000 on Sundays. In 2006, the newspaper installed a new, state of the art KBA press, and commercial printing is now 39 percent of Delaware State News' revenue. (Click on Backgrounder)
For the colorful story of The News' founder-- Jack Smyth -- click on Story of the Newspaper. Click on J-Epiphanies to hear Dulin, West, and La Prade tell their stories of when the power and purpose of journalism became clear to them. Check out Bonus Interviews for an interview with Philip Meyer, author of "The Vanishing Newspaper."
Coming next in the Mid-Atlantic States series: The (Md.) Afro-American.
It will be followed by the S.E. Atlantic States series: The (Roanoke, Va.) Times, The Fayetteville (N.C.) Observer, The (Charleston, S.C.) Post & Courier, and The Rome (Ga.) News.
-- Sara Brown and Paul Steinle